Chatbot, internal live chat, or Weply?
Do you find it hard to get an overview of the different types of chats and figure out which chat service would be the best solution for you? We know this can be complicated since chat is still a very underexposed tool, which makes it hard for businesses to make the right decision. We're here to change that!
In this post we will focus on and compare three different types of chats: chatbots, internal live chats and Weply's live chat. Let's get started!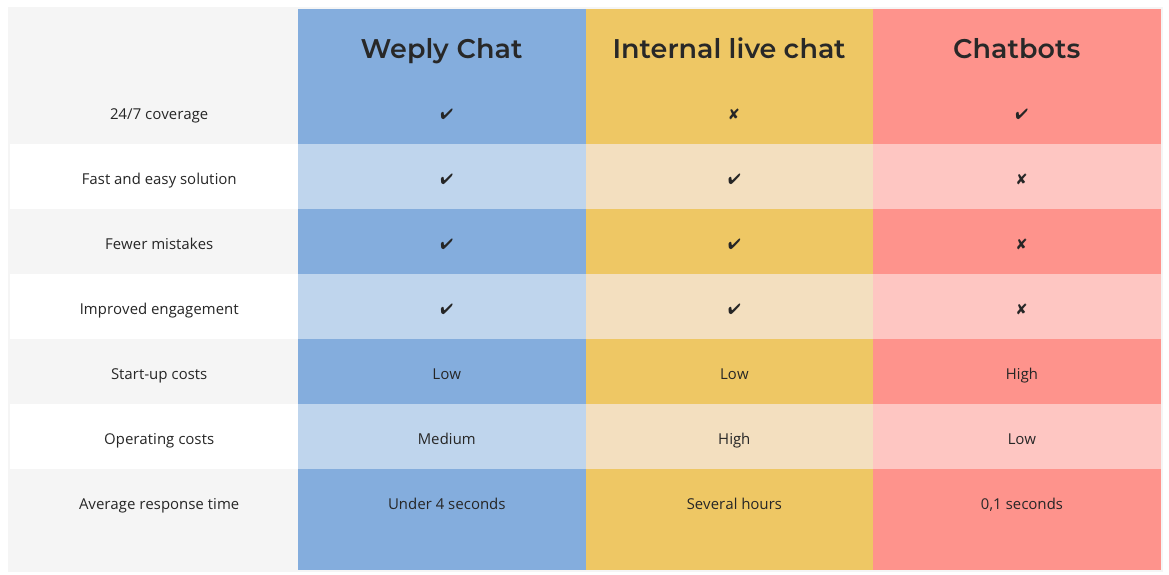 Chatbot
A chatbot is an efficient tool and is typically the solution with the lowest operating costs. A chatbot works well in situations where customers have specific and general questions. This is usually also questions that you see in a FAQ. This could be questions such as "What is the delivery time?" or "How do I return my package?". If the customer asks those types of questions the bot will usually answer within 0,1 seconds. Also, a chatbot is always available 24/7. If you are looking for a chat that can answer simple FAQ questions day and night and has the lowest operating costs, chatbot is the right type of chat for you.
If you are interested in using chatbot as a solution for outsourcing a part of your customer service, there are a few things you need to consider. Most customer service situations are more complicated than a chatbots' QA structure can handle.
In situations where potential customers want help understanding a specific context and get personal guidance, a chatbot will make the customer frustrated because of its lack of human skills. Besides that, a chat bot cannot answer questions with typos or questions that it does not know beforehand. To get correct answers from a chatbot you will need to feed the bot with huge number of datasets. This process is the reason why a chatbot is the most expensive solution when it comes to the initial investment.
Building a chatbot yourself is not easy. A recent example from Denmark showed the complexity of getting started with this. After a year of programming and two years after launching the chatbot, the chatbot is still in the test phase. In this case, it surprised them, how different people asks the same question and how sensitive the bot is.
A chatbot is the perfect match for you, if you want a chat service that can answer simple customer inquiries within 0,1 seconds. A chatbot is the solution with the lowest operating costs compared the two other chats. On other hand, this is the solution where you pay the highest start-up costs.
Internal live chat
An internal live chat is usually a solution we see in smaller businesses, where there's not enough resources to handle customer inquiries. The difference between an internal and external live chat is that the chat agents handling customer inquiries in the former are employees.
By handling chats internally you make sure that the potential customer interacts with a person who knows everything about the product or service. Chatting with an expert increases the customer experience as the chat consultant quickly understand the context and can evaluate what the customer need. As you would usually use an employee, the start-up costs are low. Despite the benefits of an internal live chat there are factors that you need to be aware of.
Even though the initial costs will not break the budget, the operating costs are high as you basically pay with your employees' salary that could have been used on their normal tasks.
An example could be a self-employed accountant who answers his inquiries himself. The accountant will probably have to interrupt his work several times a day, which quickly runs up in terms of lost working hours. This interruption is the biggest disadvantage that an internal live chat has. Although you can be guaranteed that potential customers will get great customer service by internal employees, you can risk that other business critical areas are downgraded. At the same time, inquiries in the chat may risk being left unanswered for several hours if the employee is engaged in another work task.
It can be difficult for the employee to find the right balance between handling chats and their usual working tasks. In addition, very few internal live chats are open outside of normal office hours, which means that the chat's potential is not being used properly. Our chat data shows that a chat that is online from 9 am. to 4 pm. on weekdays only receives 48% of possible customer inquiries.
An internal live chat can be a good start-up chat for smaller businesses, as the chat does not require high start-up costs or major changes in your business. It is easy to get a current employee to answer chats, and you can be sure that your potential customers can chat with someone who knows a lot about the product or service you sell. What speaks against an internal live chat is that your employee is not only a chat consultant and will therefore have to interrupt normal work tasks. This might very well lead to less efficiency. In addition, it can be difficult to get the full effect of your internal live chat if you are not able to answer chats 24/7.
Weply's live chat
Weply's live chat solution is an external manned chat. Just like an internal live chat, one of the strengths of Weply's chat is that it is manned by real human beings. Opposite of bots, real human beings has empathy which is the key for good customer service. Being able to understand a customer's needs and adjust the communication to the specific situation, will make the customer feel taken care of just as it would in a psychical store. Weply's chat consultants will basically be an extra colleague that'll be your digital receptionist in a way.
The benefits of outsourcing your live chat are many. Weply's live chat focus on answer simple questions, guide the visitor on the website and collect leads. Generating leads means that the chat consultants will ask for contact information on those who show interest for buying. The leads, as well as the entire chat dialogue, will be forwarded directly to you, so you easily can give them a call and turn them into buying customers. Receiving these leads will decrease the time spend on handling customer inquiries and especially the time spend on the initial interactions which are typically very time consuming.
Humans will, just like chatbots, sometimes misunderstand customer's request. The difference is, however, that humans will observe the misunderstanding right away and will be able to turn the conversation back around. Weply's chat consultants is also trained in controlling a dialogue, how to ask questions, and meta-communication. Also, it's a big plus that Weply's chat consultants handle the chat around the clock. Our customers will be guaranteed that all customer inquiries coming in via their chat will get handled and they will not miss out on any potential customers.
Compared to an internal live chat where the employees usually leave the office around 5 PM, Weply's chat consultants are based around the world in different time zones which makes it possible for us to provide 24/7 service. Looking at the average response time, our chat consultants do answer a little bit slower than a chatbot, but it comes down to seconds. Weply's chat consultants answer chat within 4 seconds, which is much faster than an internal live chats' response time. In internal live chats you can wait up to several hours in worst case.
If we compare the costs related to Weply's live chat to the two other chats, this is the most favorable. The start-up costs are almost non existing as it doesn't require a bigger investment nor time spend on implementing the tool. In all cases new customers will get offered a free trial period on 7 days. The operating costs related to Weply's live chat is usually higher than a chatbots' but lower than an internal live chats' costs.
Weply's live chat solution is the best choice for you if you want to interact personally with website visitors in real time around the clock. Besides providing personal service and dialogues to your customers, you can receive leads that are ready to buy. Weplys live chat will also influence multiple sales and marketing parameters.
Choosing your chat solution is not an easy task. First things first, you need to figure ou what your exact needs are and think about what your customers would prefer you to have. We hope you've made up your mind, and are ready to find your actual chat provider. If you're interested in comparing Weply to some of the biggest providers on the market, you can find them here.
If you liked this, chances are you'll enjoy...